2022 Impact Report
2021 Annual Report
2020 Annual Report
2019 Annual Report
2018 Annual Report
2018 Form 990
2018 ALICE Report
2017 Annual Report
2017 Form 990
2016 ALICE Report
2022 Impact Report
Click the image below to view a PDF of the 2022 Community Impact Report.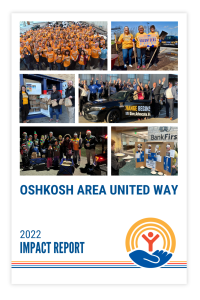 If you would like to see a list of the generous donors that have invested in the OAUW mission, please visit oshkoshunitedway.org/contributions.
NOTE: The annual report includes 2022 campaign donation lists received by February 28, 2023. These lists were prepared with great care to ensure the accuracy of contributor information.
Should any errors or omissions be found, please contact the Oshkosh Area United Way office so we may extend our apologies and make corrections in the future.
2021 Annual Report
2020 Annual Report
2019 Annual Report
2018 Annual Report
2018 Form 990
2018 ALICE Report
2017 Annual Report
2017 Form 990
2016 ALICE Report
2022 Impact Report
2021 Annual Report
2020 Annual Report
2019 Annual Report
2018 Annual Report
2018 Form 990
2018 ALICE Report
2017 Annual Report
2017 Form 990
2016 ALICE Report