2021 Annual Report
2020 Annual Report
2019 Annual Report
2018 Annual Report
2018 Form 990
2018 ALICE Report
2017 Annual Report
2017 Form 990
2016 ALICE Report
2021 Annual Report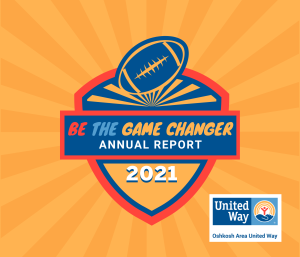 Our annual report encapsulates the stories of the year and recognizes our generous donors that help fund over 40 area programs.
NOTE: The annual report includes 2021 campaign donation lists received by February 28, 2022. These lists were prepared with great care to ensure the accuracy of contributor information.
Should any errors or omissions be found, please contact the Oshkosh Area United Way office so we may extend our apologies and make corrections for the future. 
2021 Virtual Community Celebration
Thank you to everyone who attended our virtual Community Celebration, sponsored by Rhyme! Did you miss it? Don't worry. You can still watch it below.
2020 Annual Report
2019 Annual Report
2018 Annual Report
2018 Form 990
2018 ALICE Report
2017 Annual Report
2017 Form 990
2016 ALICE Report