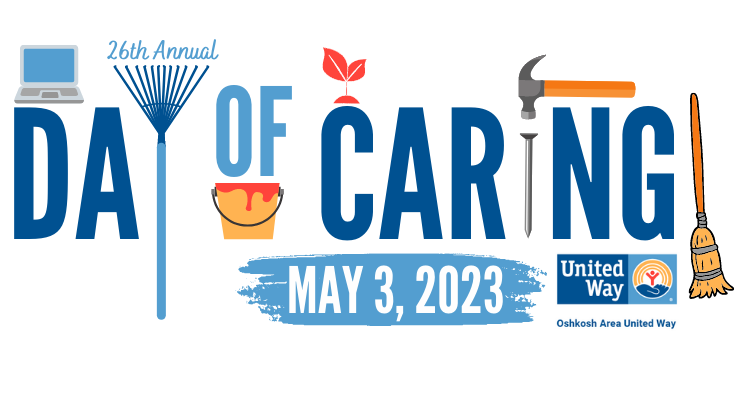 "As we work to create light for others, we naturally light our own way."
– M. Radmacher
Each year, Oshkosh Area United Way hosts

Day of Caring

 one of the largest organized volunteer events in the area. Day of Caring is a community-wide service day with hundreds of volunteers working on projects hosted by local organizations throughout Oshkosh. Participating in Day of Caring is a great way for anyone of any age to lend a helping hand to amazing organizations that are strengthening the community we live and work in.
On
Wednesday, May 3
, we ask residents, students, families, and employees to consider spending a half-day volunteering at our Day of Caring event to give back to the organizations that are doing so much to better the lives of our friends and neighbors.
A few examples of Day of Caring volunteer projects from past years include:
Basic gardening, landscaping, yard or grounds cleanup

Cleaning and organizing

Paint prep and painting

Assisting seniors with various tasks like moving furniture to vacuum, cleaning ceiling fans and light fixtures, etc.

Assembling 5K participant packets

Various skilled-based tasks (assisting with proofreading, social media strategy, reviewing HR handbooks, etc.)
One of the greatest gifts you can give is your time — please consider registering yourself or a group of your friends/co-workers to volunteer at Day of Caring!
All volunteers MUST register via the button below or link
HERE
prior to
Friday, April 21
. Following the deadline, we will email all registrants additional information about where you'll be volunteering and what you'll be doing on Day of Caring
We'll kick off the morning with a delicious free breakfast buffet at Best Western Convention Center and a few opening remarks from community leaders before volunteers head out to their assigned project sites. All volunteers will receive a free United Way T-Shirt.
Day of Caring Food & Diaper Drive
In partnership with Verve, a Credit Union, we invite you to bring non-perishable items with you to the Best Western Convention Center. The Verve Energy Station vehicle will collect the supplies. You'll see an attachment to this email that has more details. 40% of Oshkosh residents cannot afford basic needs and your donation of tuna and canned meat, peanut butter, and baby diapers for the community are greatly appreciated. 
Download the 2023 Day of Caring Poster!
ORGANIZATIONS OR AGENCIES: Organizations or agencies looking to submit projects for Day of Caring, email oauw@oshkoshunitedway.org.
If you have any questions, please call (920) 235-8560 or email us at oauw@oshkoshunitedway.org.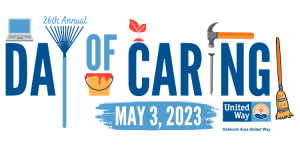 Best Western Convention Center
8 a.m. – 8:45 a.m | Registration / Free Volunteer Breakfast
9 a.m. – 12 p.m. | Volunteering at Assigned Sites