Why Volunteer in Oshkosh?
One of the greatest gifts you can give is your time, by volunteering in Oshkosh and the surrounding area.

People volunteer for many reasons. For some, volunteering offers the chance to give back to our community. It lets them make a difference in their friends' and neighbors' lives. For others, it's a chance to develop new skills or existing experience. Regardless of the reason, what unites everyone is that you find volunteering rewarding; for yourself and for those you are helping.

How Do I Volunteer in Oshkosh?
Interested in volunteering in the Oshkosh area, but not sure where to look? Oshkosh Area United Way has a website that makes finding and signing up for volunteer opportunities easier than ever. VolunteerOshkosh.org is your one-stop spot for the latest volunteer needs in our community. At VolunteerOshkosh.org, you can view listings from local groups and sign up to volunteer. You can also track your hours from one easy-to-use website. We'll even send you new opportunities that match your volunteer interests!

Opportunities are available now. Visit VolunteerOshkosh.org, sign up and start making a difference today.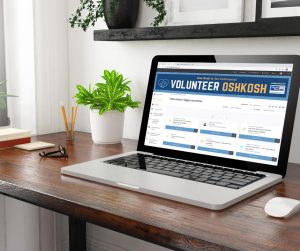 Community Impact Committee Volunteers
Oshkosh Area United Way opens its grant application to the public every year. Applicants can request funding for any new or existing program that helps early childhood education, financial stability or mental health. These three issues are immediate concerns in the Oshkosh area. Community Impact Committee Volunteers review grant applications, ask questions, and make funding recommendations. For more information about Community Impact or to join the Community Impact Committee, contact Oshkosh United Area United Way at oauw@oshkoshunitedway.org.
Get Your Workplace Involved
A big part of Living United means giving back to our community. Building a better workforce and community is easy when you work with the Oshkosh Area United Way. We offer chances to connect with local groups that are making a real difference. Join us and get your team involved today!
Boosts employee morale & commitment

Builds community goodwill

Enhances teamwork skills

Increases leadership skills

Provides a service to the community  
We'd like to offer your employees a chance to meet community needs without leaving the office. We bring the project to you! Projects are educational and interactive, helping volunteers to better understand the issues they address.
Monthly Collection Drives
OAUW provides a list of needed items, organize your donations at the end of your event and deliver your company's contributions to those in Oshkosh who need them most. Examples of monthly collection drives include: diapers, hygiene products, school supplies, food, winter clothing and more. Learn about our collection drives HERE.
Corporate volunteers in Oshkosh can collect donations or buy goods to assemble supply kits as a team-building activity; all while bringing comfort and encouragement to those in need. Examples of kits include: Literacy, New Parent, Snack Packs, Dental, First Aid, Hygiene.
Bags for Home-Delivered Meals
Think how fun it would be to receive your food in a decorated lunch bag! This fun, inexpensive project is great for all ages. Bring joy to someone in need by decorating ADVOCAP home-delivered meal bags. Contact oauw@oshkoshunitedway.org for more information.

All it takes is five minutes to show your support and appreciation! Write a quick note of encouragement to a hospital patient, student, or client at one of our funded organizations or community partners.