EXCLUSIVE OSHKOSH AREA-THEMED ORNAMENTS THAT WILL MAKE AN IMPACT
Oshkosh Area United Way has created custom ornaments to celebrate Oshkosh AND help raise much-needed funds for our community! Not only will these ornaments decorate homes, but they will also provide hope for those in need.
All ornament sale proceeds will go to community programs funded through Oshkosh Area United Way. These funds will impact the lives of our community's most vulnerable members, providing support through our youth-focused education, mental health, and financial stability initiatives.
GIVE THE GIFT OF JOY WHILE GIVING BACK TO THE COMMUNITY
Order online below or purchase at Caramel Crisp (200 City Center D) or at our new office (16 Washington Ave.)
Celebrate Oshkosh Ornaments Will Brighten Your Decor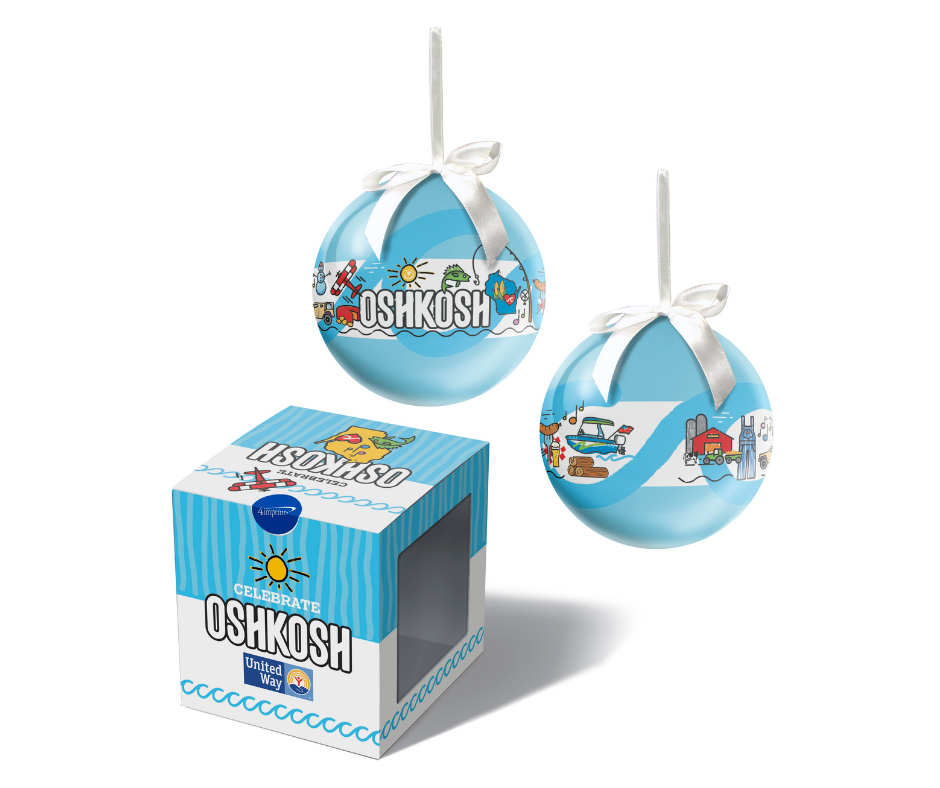 Ornament Features What Makes Oshkosh Special
This one-of-a-kind, custom ornament is a perfect keepsake for yourself or someone special in your life. Everything from boats and airplanes to big trucks and bib overalls are incorporated into the bright and colorful design.
This shatterproof ornament also comes in its own custom-designed box for safekeeping.
Regular Price: $18.00
Online Price: $24.50 (includes shipping and handling)
Historical Landmark Ornaments Features NEW Oshkosh Corporation Ornament
Oshkosh Area United Way is creating a series of ornaments, sponsored by 4imprint, that will feature historical landmarks to celebrate our community. Every year a familiar historical landmark in Oshkosh will be featured.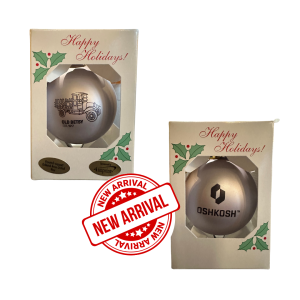 NEW ARRIVAL! Brand New Ornament Featuring Oshkosh Corporation's Old Betsy!
This Commemorative ornament is the second in a series that will honor historic Oshkosh. Old Betsy is the first vehicle manufactured at Oshkosh Corporation in 1917. For over 100 years, the company has been an industrial technology company serving everyday heroes including soldiers, firefighters, people working at great heights, and environmental and refuse workers. It also drives us to take care of our people, our communities, and our planet. Purchase this exclusive Oshkosh area-focused ornament today!
Regular Price: $10.00
Online Price: $16.50 (includes shipping and handling)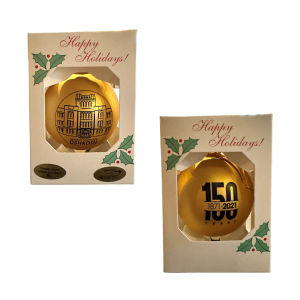 Ornament Featuring Dempsey Hall & UWO to Celebrate the school's 150 Years!
Observing what makes Oshkosh special is a great way to celebrate the holidays. The 2021 ornament recognizes Dempsey Hall from the University of Wisconsin-Oshkosh while also honoring the school's 150th anniversary. Your purchase is sure to add cheer this holiday season for those in need.
Regular Price: $10.00
Online Price: $16.50 (includes shipping and handling)
About Oshkosh Area United Way: Oshkosh Area United Way is a local nonprofit organization established in 1962. The mission of Oshkosh Area United Way is to improve the lives of your community members by leveraging people and resources to create innovative solutions to community needs. Give, advocate or volunteer at oshkoshunitedway.org.
For more information, email oauw@oshkoshunitedway.org.