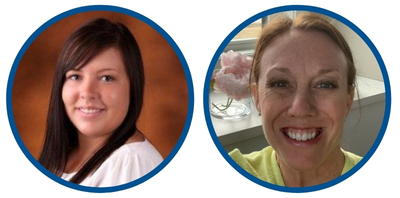 Oshkosh Area United Way (OAUW) is pleased to announce that Chelsea Stindt, Oshkosh Defense, and Amy Ashton, Oshkosh Area School District, as the new co-chairs of the OAUW Emerging Leaders.
The OAUW Emerging Leaders program provides early-to-mid career professionals a chance to further develop their leadership skills, network with like-minded individuals, and elevate their commitment to making a difference in the community.
"We congratulate both Chelsea and Amy on their new roles as they lead an amazing group of Emerging Leaders," said Terri St. Lawrence, Oshkosh Area United Way Impact and Outreach Specialist. "We commend Chelsea and Amy for their leadership and commitment. Having their perspective and passion on how we continue to drive key impact areas within our community is so critical."
Of those key areas, which include early childhood education, mental health, and financial stability, the group of Emerging Leaders will be focusing on a variety of impact areas that not only supports nonprofit and volunteer organizations but also their own personal and professional development.
"I've been involved with the OAUW financial allocations process for the past three years and I've seen firsthand the impact the funds raised during campaign season make on our community," said Chelsea Stindt, Human Resource Manager at Oshkosh Defense and chair of the OAUW Financial Stability panel. "I'm thrilled to find new ways to contribute to this wonderful community and to those in need." 
"Being an Emerging Leader for the past 10 years has allowed me to support the education and growth of children in our area and to build impactful relationships…two things I'm extremely passionate about," said Amy Ashton, Principal of Lakeside Elementary School. "I'm excited to promote the Emerging Leaders program to other young professionals in Oshkosh."  
1 in 3 people in the Oshkosh area benefits from United Way-supported programs. In 2021, Oshkosh Area United Way is funding 38 programs from 22 organizations aimed at meeting the needs of our community and transforming Oshkosh into a great place to live, work, and play – for every resident. Oshkosh Area United Way raises money through its annual campaign and awards grants to local programs to maximize the impact of their services.
Oshkosh Area United Way is continuing to add to this leadership group. With a mantra of "Lead, Serve, Connect," this group is recommended for passionate professionals under 40 years old, who give $500 or more to the United Way campaign and are looking to grow in their profession and their impact, making our community better. For more information on joining this team of community leaders, visit oshkoshunitedway.org/emerging or call 920-235-8560.