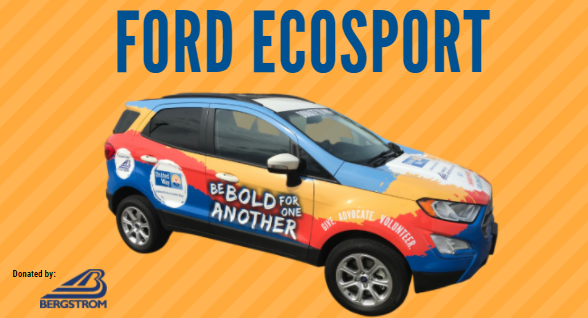 OSHKOSH, Wis. – Oshkosh Area United Way has a new sweepstakes car, generously donated by Bergstrom Automotive, which will be awarded to a lucky donor after the 2021 United Way campaign. Bergstrom Automotive has partnered with Oshkosh Area United Way for over five years to provide an exciting new vehicle to spread awareness of the United Way mission. This year's giveaway vehicle is a 2020 Ford EcoSport with a fun new wrap celebrating United Way.
This vehicle is the latest in a series of donated models from Bergstrom Automotive. The Bergstrom Automotive team has shown a great interest in helping surrounding communities meet their basic needs.  
John Bergstrom, Chairman & CEO of Bergstrom Automotive, states, "Investing in our community is a critical part of our business. We encourage our employees to support Oshkosh Area United Way so we can help the less fortunate. One in three Oshkosh residents need help with their basic needs. We want to do our part to make sure that fewer families struggle in our community."
The President and CEO of Oshkosh Area United Way, Mary Ann Dilling spoke of the positive impact she sees in the community because of Bergstrom Automotive.
"This is just one of many Bergstrom Automotive initiatives that supports our community," Dilling said. "We are blessed to have business leaders, like John and Tim Bergstrom, with servant hearts looking out for Oshkosh."
Interested readers can see the sponsored campaign vehicle driving around the Oshkosh community and on the web by following Oshkosh Area United Way on Facebook, Twitter, LinkedIn and Instagram.
About Oshkosh Area United Way: Oshkosh Area United Way is a local nonprofit organization established in 1962. The mission of Oshkosh Area United Way is to improve the lives of our community members by leveraging people and resources to create innovative solutions to community needs. Give, advocate or volunteer at oshkoshunitedway.org.
###