Free October 26 TELTALK with Brenda Haines Zoom Registration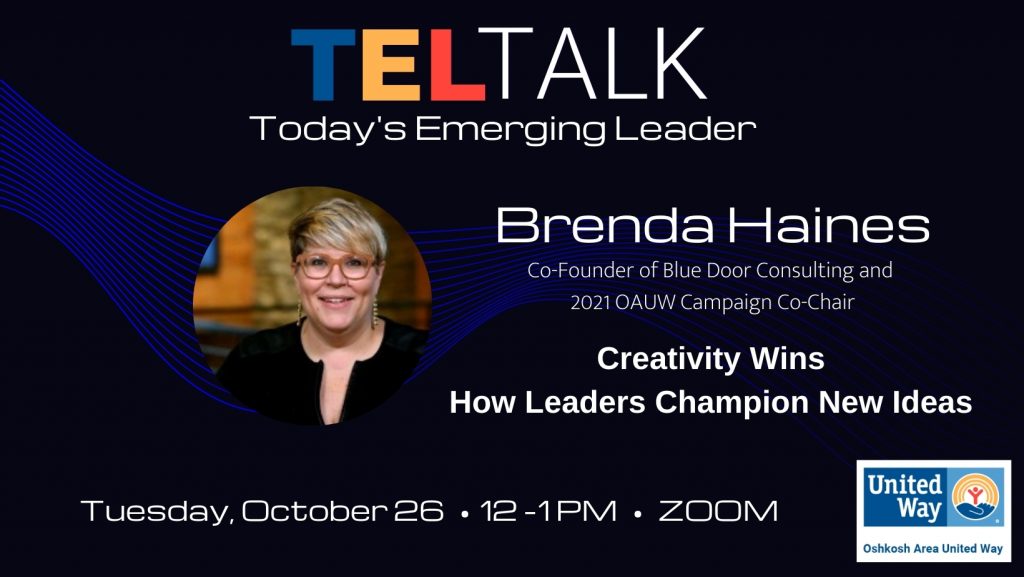 Registration is now closed. Thank you to everyone who signed up! 
Creativity Wins: How Leaders Champion New Ideas
In an increasingly competitive marketplace, the need for new ideas and creative solutions is stronger than ever. Yet, not all problems find solutions. And, not all good ideas see the light of day.
So, how can we, as leaders, nurture creative thinking within a team and help ensure good ideas reach adoption? It starts with understanding how ideas are born and why some flourish while others wither. Blue Door Consulting co-owner/co-founder Brenda Haines is fascinated with the art and science of idea-generation. In this engaging presentation, she will share the latest research on the science of ideation and offer practical tips for how you can generate and spur adoption of your ideas for growth personally and professionally.
About Brenda Haines
Brenda Haines is passionate about business, community and finding creative solutions to big-picture challenges. She is co-founder/co-owner of Blue Door Consulting, a marketing consulting firm based in Oshkosh. Twice named to the Inc. 5000 fastest-growing, privately held companies list, Blue Door Consulting's team of 40 works with regional, national and global brands on branding, marketing strategy and execution. 
She is a founder and current board president for the Oshkosh Food Co-op, Northeast Wisconsin's first community-owned grocery store, which opened in July 2021. In this role, she worked on developing and executing the co-op vision, strategic plan, membership growth, site selection and capital campaign. Previously, she served as Board Chair for Verve, a Credit Union, leading the board through mergers with three Wisconsin credit unions. She is a founding member and former board president of the American Marketing Association – Northeast Wisconsin Chapter. She has served on the boards of the Women's Fund of the Oshkosh Area Community Foundation, Christine Ann Domestic Abuse Services, Harbor House Domestic Abuse Programs, TEMPO-Fox Valley and the Oshkosh Rotary Club. 
Brenda and her husband, Alex Hummel, have lived in Oshkosh since 2000. She graduated summa cum laude from Wartburg College, Waverly, IA, with a Bachelor of Arts – Communication Arts/Electronic Media, Political Science and earned a Master of Public Administration degree from UW Oshkosh.
ABOUT EMERGING LEADERS: The Emerging Leaders program through Oshkosh Area United Way provides early-to-mid career professionals an opportunity to further develop leadership skills, network with like-minded individuals and elevate their commitment to making a difference in the community.
Interested in learning more? Visit our Emerging Leaders page HERE, or email us at oauw@oshkoshunitedway.org.
An Emerging Leaders event presented by Oshkosh Area United Way and United Way Fox Cities