2020 Campaign Kickoff Registration
Kickoff a Tee-rific 2020 Campaign!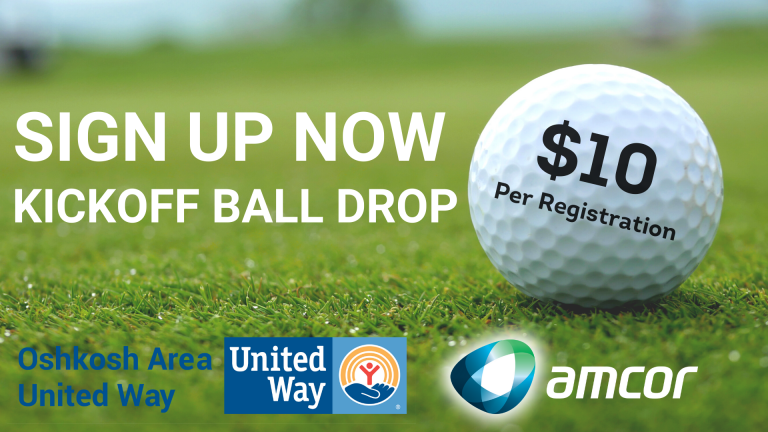 REGISTRATION FOR THIS EVENT IS NOW CLOSED. VIEW THE RECORDED EVENT BELOW.
Our world looks a little different right now. Although we cannot gather in person, we invite you to gather virtually… with a drop of excitement! 
Join us for an  un-fore-gettable start to the 2020 Oshkosh Area United Way Campaign! 
Learn more about who your dollars support here in Oshkosh, meet the campaign chairs leading the charge for 2020, and watch live to see if you win! Each event registration includes a numbered golf ball. Golf balls will be dropped during the campaign kick-off with the closest ball to the pin, winning! There will be prizes for first, second and third closest balls. Additional golf balls are available for purchase when registering below.
We are thrilled to be able to give back to those who give to our community all year-round thanks to a local sponsor.
Now, more than ever, it is important to support your community through a campaign donation. According to the 2018 ALICE (Asset Limited Income Constrained Employed) Report, 46% of Oshkosh live below the ALICE threshold – meaning almost half of residents struggle to meet basic needs like shelter, food or utilities; that was before the COVID-19 pandemic. Now, we see our local organizations making the shift from previously helping the most vulnerable, to helping everyone in our community. Your support to the Oshkosh community means supporting your neighbors, friends and co-workers. 
Special thanks to our sponsors for this event, Amcor and Baird!