TELTALK FEATURING UWO CHANCELLOR ANDREW LEAVITT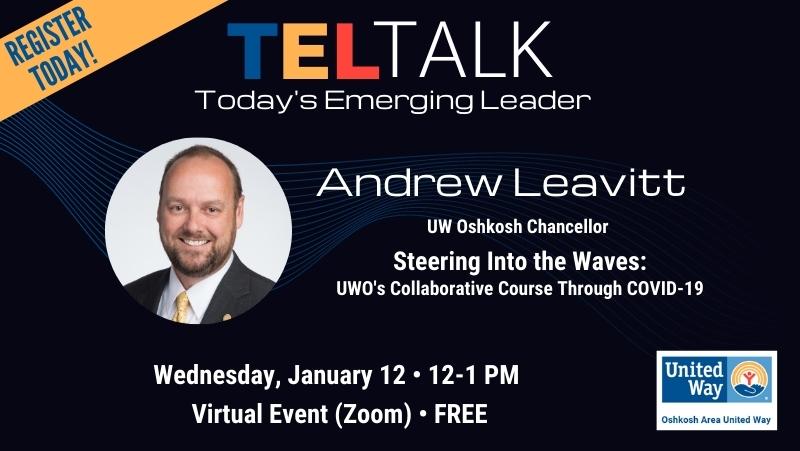 Thank you for your interest. Registration is now closed. 
Steering into the Waves: UWO's Collaborative Course Through COVID-19
UW Oshkosh Chancellor Andy Leavitt highlights how the 150-year-old institution leaned on the knowledge of its own faculty and staff scientists, the expertise of university public health and nurse professionals, and data-centric public safety emergency commanders, in collaboration with regional health care testing/vaccination specialization and executive leaders, to innovate a way into and through the pandemic.
This campus-community strike-force's innovative approaches in tracking, treating, and containing the virus earned UWO and our region some national attention. Partnerships deepened through support from and research with the Centers For Disease Control and Prevention (CDC), the Surgeon General of the United States and other key Wisconsin stakeholders.
About Andrew J. Leavitt, Ph.D.
Dr. Andrew J. Leavitt, 11th Chancellor of the University of Wisconsin Oshkosh, is focused on enhancing students' success and promoting academic excellence. With the vision and guidance of students, faculty, staff, alumni, and University partners, Dr. Leavitt is helping transform the three-campus institution by expanding community engagement and building an inclusive and supportive institutional environment. He is also helping position the University as a research-enhanced comprehensive university that best serves the needs of its region.
Dr. Leavitt became UW Oshkosh Chancellor in November 2014. He shares a strong foundation in academic leadership with nearly 30 years as an educator, researcher, and fundraiser. His focus remains on engaging students in hands-on learning opportunities and increasing the profile of undergraduate, graduate and faculty research at UW Oshkosh, while furthering the University's commitment to sustainability. In 2021, UW Oshkosh is launching the second transformative strategic planning initiative during Dr. Leavitt's tenure as Chancellor.
Committed to Oshkosh, Fond du Lac, and Fox Cities campuses and communities, Dr. Leavitt has served on a number of external boards. They include the Oshkosh Chamber of Commerce Board, the Community Sounding Board, Key Executive Council, New North Inc. Board, and The Grand Oshkosh Board. He has served as chair of the Northeast Wisconsin Educational Resource Alliance (NEW ERA) Board and the Wisconsin Intercollegiate Athletic Conference Council of Chancellors. Dr. Leavitt has also twice led Oshkosh Area United Way campaigns.
From 2009 to 2014, Dr. Leavitt served as the Vice President for University Advancement and as a chemistry professor at the University of North Georgia, as well as the CEO of the University of North Georgia Foundation, Inc. Prior to joining the University of North Georgia in 2009, Dr. Leavitt worked at the University of West Georgia from 1994 to 2009 serving in a variety of roles including interim vice president for University Advancement, associate vice president for Development and Alumni Relations, executive director of the University of West Georgia Foundation, Inc. Dr. Leavitt rose through the ranks, from assistant to full professor of chemistry, creating a lively, externally funded undergraduate research experience for his students.
He has a bachelor's degree in chemistry with minors in physics and mathematics from the University of Arizona in Tucson and a Ph.D. in chemistry from the University of Utah in Salt Lake City.
A native of Tucson, Arizona, Dr. Leavitt is married to Karen Leavitt. They have three adult children, Genevieve (and her spouse Maple), Scott and Madeleine, and two grandchildren.
ABOUT EMERGING LEADERS: The Emerging Leaders program through Oshkosh Area United Way provides early-to-mid career professionals an opportunity to further develop leadership skills, network with like-minded individuals and elevate their commitment to making a difference in the community.
Interested in learning more? Visit our Emerging Leaders page HERE, or email us at oauw@oshkoshunitedway.org.
An Emerging Leaders event presented by Oshkosh Area United Way and United Way Fox Cities