Monthly Collection Drives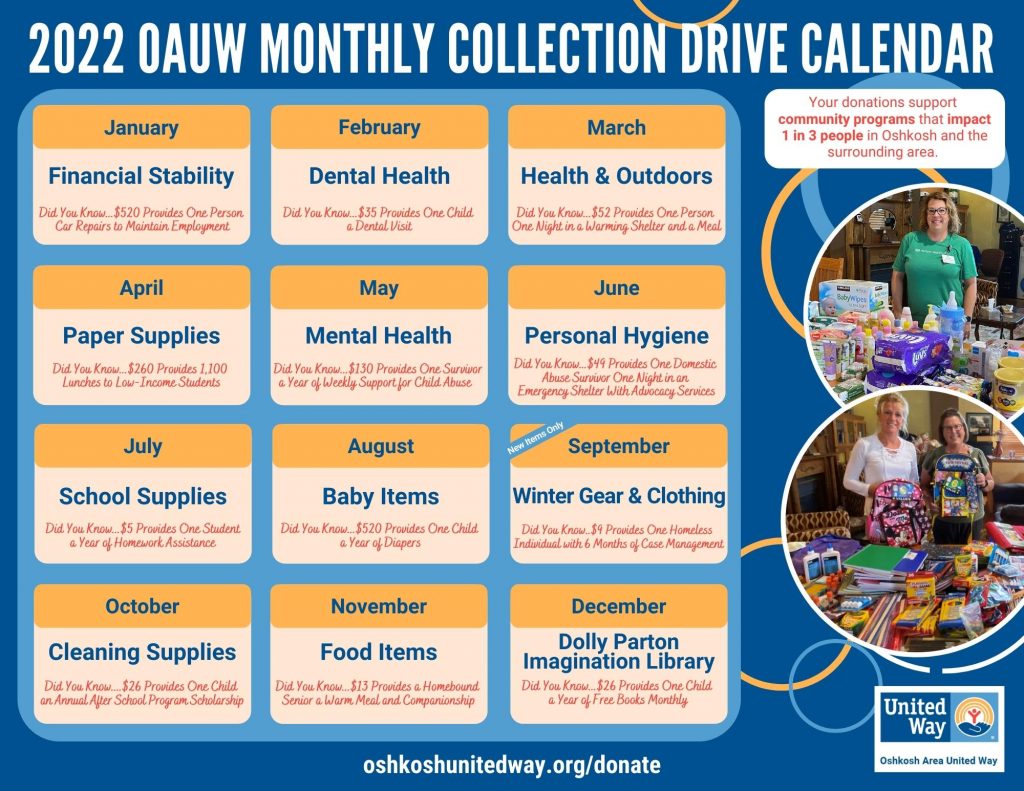 Host A Monthly Collection Drive
Collection drives are an easy way for any organization, family, neighborhood, or individual to get involved in supporting your community. Our partners have supply and program needs all year-round. You can organize and hold the collection in your office or home and drop them off at our office or donate online.
We will then distribute your items and funds raised where they are needed most; Oshkosh Area United Way focuses on three key initiatives including Early Childhood Education, Mental Health, and Financial Stability.
Download the 2022 OAUW Need of the Month Calendar HERE!
How the Collection Drive Works
1. Schedule your collection drive in your office or home – you decide which month your group or family feels most passionate about and what best fits your timeline!
2. Download the 2022 OAUW Needof the Month Calendar, monthly flyers, and social posts (see below).
3. Promote your drive with the appropriate month's flyers via e-mail, social, company eNewsletter, team or all-hands meetings, etc.
4. Drop off collected supplies at the Oshkosh Area United Way office, 21 W. New York Ave., Oshkosh, before the last Thursday of the month OR donate online at oshkoshunitedway.org/donate.
Monthly Flyers and Social Posts
Please check back soon for updated flyers and social posts.