Register for the 2022 Community Giving Campaign Kickoff Event!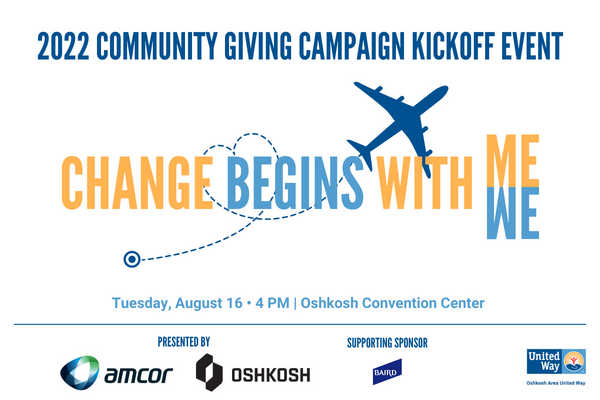 WHERE:
Oshkosh Convention Center
2 N. Main St.
Oshkosh, WI 54901
WHEN:
Tuesday, August 16
4:00 p.m. 
 | Pre-Flight – Community Networking
4:45 p.m.
| Takeoff – Inspiring Speakers
5
:15 p.m.
| Arrival – Celebration
Grab your favorite Oshkosh t-shirt or aviation-themed gear and join us for this high-flying event. 
Registration is required to attend this FREE community event.
**Registration Extended to Monday, August 15 at 10 a.m..**
Our community came together last year to help raise funds to support over 40 area programs that improve access to services for Early Childhood Education, Mental Health, and Steps to a Living Wage. Because of you, 2021 was a record-setting campaign and we were able to address emerging basic needs as a result of the pandemic, help elementary students strengthen their reading proficiency, and assist local residents gain the skills to earn a livable wage. Our individual responses are magnified when we are united.
That is why we are celebrating the 2022 Oshkosh Area United Way Community Giving Campaign with a special community gathering. We want our businesses, community partners, volunteers, and donors to rally behind our mission and support those in need. You can learn more about who your dollars support here in Oshkosh and the surrounding area, enjoy great food and entertainment, and meet the campaign chairs leading the charge for 2022!
We are thrilled to be able to give back to our community all year-round thanks to your support.
Now, more than ever, it is important to support our community through a campaign donation. According to the 2020 ALICE (Asset Limited Income Constrained Employed) Report, 40% of Oshkosh city residents live below the ALICE threshold – meaning almost half of residents struggle to meet basic needs like shelter, food or utilities. Now, we see our local organizations making the shift from previously helping the most vulnerable, to helping everyone in our community. By supporting the Oshkosh Area United Way,  we improve the lives of our neighbors, friends, and co-workers together. 
Thank you for your interest in our event. Registration is now closed. Please call us at (920) 651-3059 if you have any questions.
2021 Community Giving Campaign Kickoff Event